Richmond Kickers vs. Forward Madison FC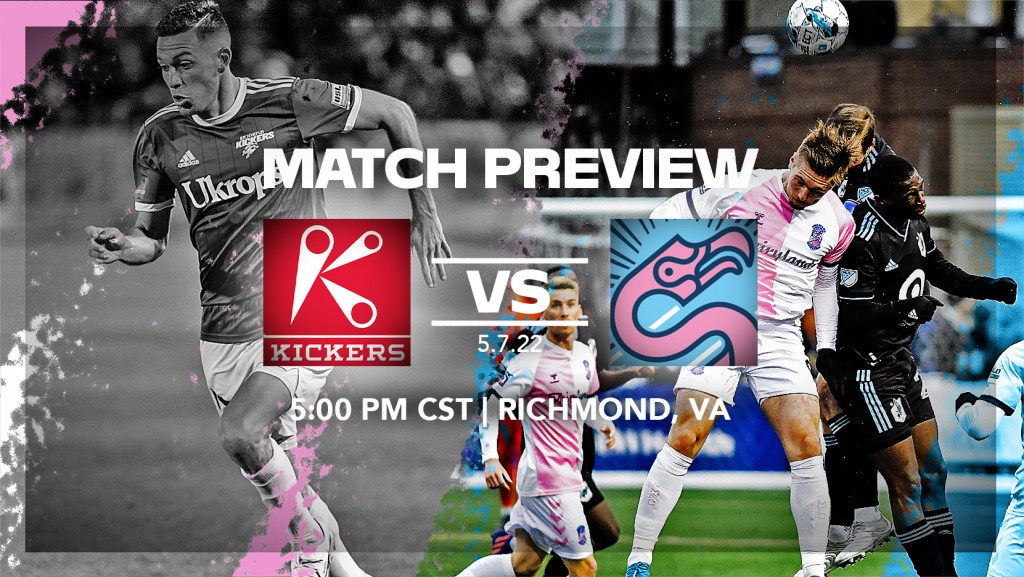 Saturday, May 7th, 2022; 5:00 p.m. CT
Location: City Stadium
Follow @ForwardMSNFC on Twitter and Instagram for live updates
Forward Madison is set to face off with the Richmond Kickers, who currently hold the best record in the USL League One (2-1-1). The match will take place at City Stadium in Richmond, Virginia at 5:00 pm CT on Saturday, May 7th. Richmond won the most recent matchup between these clubs on August 8th, 2020, as the Kickers managed to hang on to a 1-0 lead, thanks to an early goal scored by Emiliano Terzaghi (9').
In Forward Madison's most recent USL League One match, the club lost 1-0 to Central Valley Fuego FC. Looking ahead, the Flamingos will head to South Carolina to take on Greenville Triumph SC on Friday, May 13th, 2022 at 6:00 pm CT.
The Richmond Kickers are entering Saturday's match following a 2-1 win over Charlotte Independence on Monday, April 25th. Next up for the Kickers, they'll host a U.S. Open Cup Round of 32 match against MLS club, Charlotte FC, on Wednesday, May 11th, 2022.
Coaches and USL League One 2022 Records
Richmond Kickers (2-1-1)
Head Coach: Darren Sawatzky
Forward Madison FC (0-1-3)
Head Coach: Matt Glaeser
Key Players to Watch:
Forward Madison
Jeremiah Streng: Streng has been one of the most efficient strikers for the Flamingos so far this season. The Finnish forward leads FMFC in shots, shots on goal, and is tied for the most goals, while he's only played 192 minutes. If the Flamingos fall behind, expect coach Matt Glaeser to rely heavily on Streng to produce some offense for his squad.
Mitch Osmond: The Australian center back has been a force for FMFC's backline all season. Osmond ranks in the top three on Forward Madison for clearances, interceptions, and tackles. Expect Osmond and Eric Leonard to carry the load defensively for the Flamingos going up against a high-powered Kickers' attack.
Derek Gebhard: Gebhard has had a strong season moving the ball up the field and getting past defenders. The Maine native had an impressive game against a tough club in Union Omaha. Gebhard stepped up, faked out a defender and managed to draw a free kick in the box. The Flamingos will need a lot of offensive production from Gebhard on Saturday.
Key Match Up
FMFC Backline vs Kicker Strikers:
The key match up for this contest is Forward Madison's back line versus Richmond's strikers. The Kickers have been dominant offensively so far this season, tying for the most goals (7) of any USL League One team, while they currently hold the best goal differential (4). Richmond has seen a bulk of their offensive attack come from Emiliano Terzaghi along with Nil Vinyals. The duo has been one of the biggest surprises this season as they have combined for four goals on the year. Expect Richmond to attack and try to expose holes in FMFC's backline throughout Saturday's match.
On the other hand, Forward Madison's backline has been one of the biggest strengths for the club this season. The backline core of Eric Leonard and Mitch Osmond have been dominant. Leonard and Osmond have combined for 25 clearances, 15 interceptions, and eight tackles won. Coach Matt Glaeser will rely heavily on Leonard and Osmond, but he'll need help from Mikey Maldonado as well as Cesar Murillo Jr.. FMFC has only allowed five goals on the season (4th best in USL League 1), while the Kickers have scored seven goals on the year (2nd best in USL League 1). Expect a tough battle between FMFC's biggest strength, defense, and Richmond's biggest strength, offense.
Keys to the Match
Get Quality Chances: FMFC has done a great job this season getting quality shots on goal and this will be especially important against the Kickers, who currently hold the best goal differential in the league. If the Flamingos can record a decent amount of corner kicks and free kicks, they'll have no problem getting some quality shots on the Kickers' keeper. Look for Jeremiah Streng and Abdou Mbacke Thiam to contribute quality chances for the 'Mingos.
Hot Start: Forward Madison failed to get out to a hot start in their first two USL League One matches this season and that showed as the team had to fight back late in the games and earn their draws. Against a Richmond club that holds the best record in the league, it'll be critical for FMFC to grab an early lead as it'll be difficult to battle back for a draw. Expect the Flamingos to press from the start and push the ball on counter attacks early in the match.
Previous and Next Match
Forward Madison is coming off a close loss 1-0 to Central Valley Fuego FC. Following Saturday's match against Richmond, the Flamingos will prepare for a match against Greenville Triumph SC on Friday, May 13th, 2022. After that match, FMFC will head home to welcome the Charlotte Independence on May 21st, 2022 at 7:00 pm CT.
The Richmond Kickers won their most recent USL League One match against the Charlotte Independence 2-1. Next up on their USL League One schedule, the Kickers will take on the defending league champions, Union Omaha, on Saturday, May 14th, 2022.