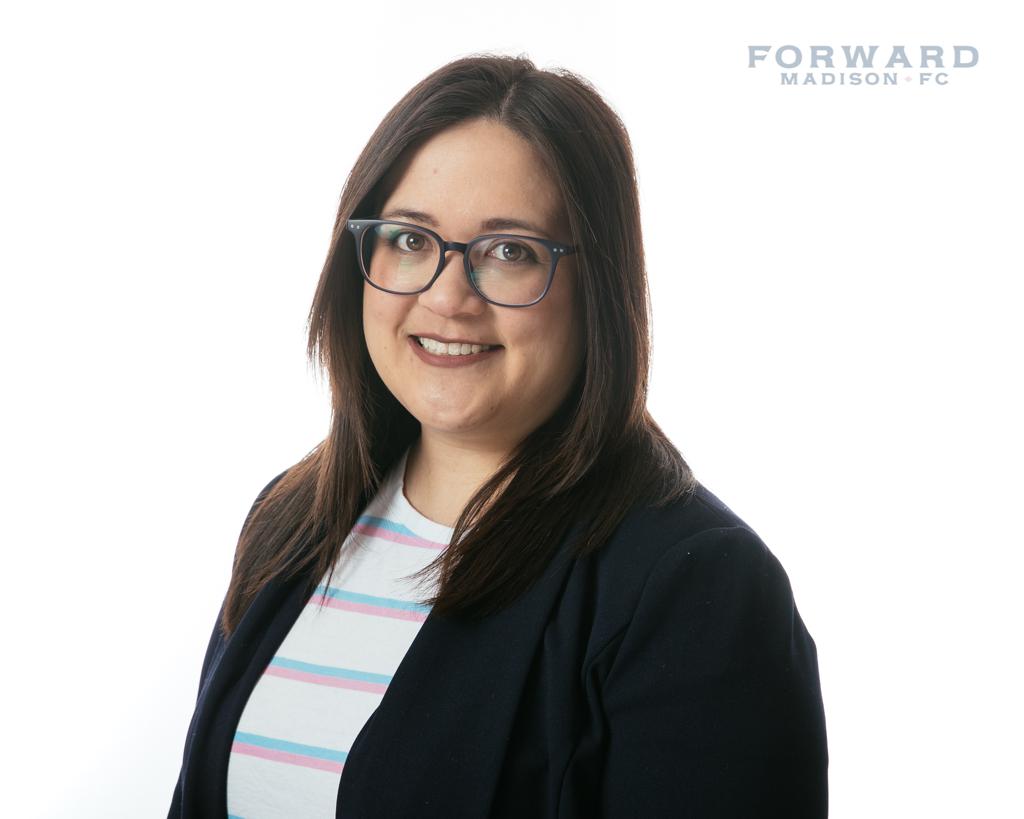 Sara Scott is a force of nature. The perfect embodiment of someone who leads by example rather than voice, her influence on the Madison community is significant. Sara was recently elected President of The Flock (the independent supporters' group of Forward Madison FC). To understand how she ended up in this position, you have to first understand her passion for the Madison community.
"I grew up in Madison, it's always been home…" Sara said "…there's so many different things to do and [that diversity] reminds me why I like it here."
If you're describing Madison to someone who has never been, Madisonians often describe the city as a university town, with the University of Wisconsin-Madison being the most influential entity around. For Sara, having graduated from UW-Madison and now working at the university as an Accreditation Specialist for the School of Medicine and Public Health, she's noticed the positive impact UW graduates can have on the Madison community. When describing the changes she has noticed over the past several years, Sara highlights the influx of young professionals and how it has, "very much changed, at least in my opinion, the focus on where investment is in terms of entertainment and community resources that strengthen the city."
Among these investments has been the establishment of Forward Madison FC. Sara reminisced on her first match and how she got involved in The Flock. "I was kind of looking for things to do around town. And I remembered one of my friends had season tickets to [Forward Madison]… I bought a single ticket in The Flock End and had a fabulous time, just the general atmosphere… I wanted to continue to be a part of it and never really looked back"
Never looking back is an understatement. Sara took on the role of Secretary for The Flock in 2020 and when Presidency became open for the supporters' group, she threw her hat into the ring. Running a supporters' group, especially during a pandemic, is not an easy task, but one that she is up to doing. Like many of us, Sara explained that she remains "very hopeful to bring [The Flock End] experience back" emphasizing that they will do so in accordance with the prevailing public health protocols.
Part of the Forward Madison fan experience, especially for Flock members, is putting time and effort into making Madison an even better place for future generations. "It all comes back to the goal about how can gather as a [soccer] community… to cultivate more creative ways to keep advancing [this community]."
She encourages anyone who is interested in becoming involved in The Flock, either through the matchday experience or community partnerships, to visit their website (fwdflock.com), reach out on social media, or ask anyone in The Flock End.
As Sara and her fellow Flock members look to the 2022 campaign and beyond, one thing is clear: all are welcome. This has been a part of The Flock since its inception as Sara describes, "[It's] certainly a credit to all of the individuals that came before they have set the bar super high in terms of making sure that we're inclusive and welcoming and… hopefully I can [continue that tradition]."