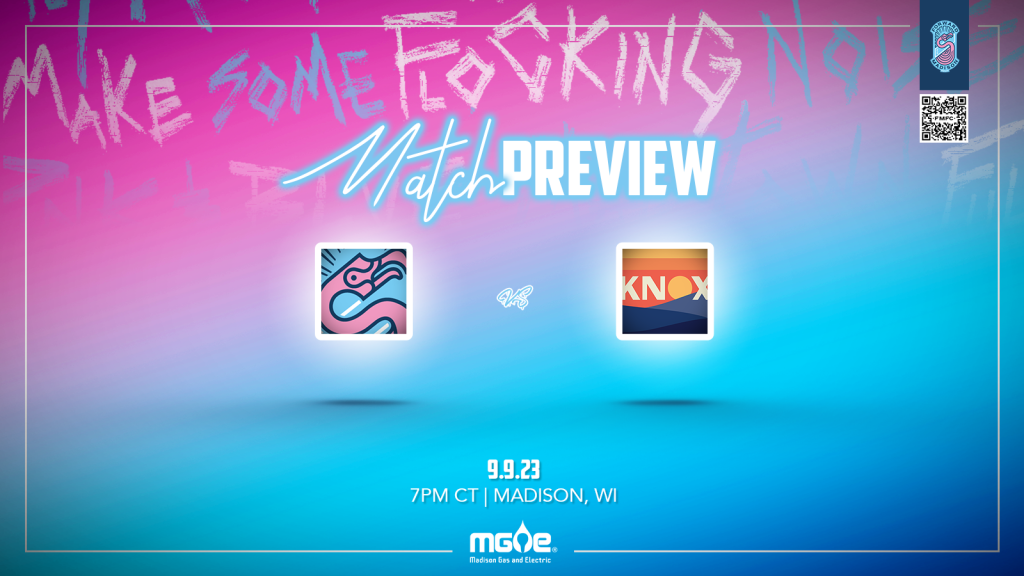 Saturday, September 9th, 2023; 7pm CT
Location: Breese Stevens Field, Madison, Wisconsin
Follow @ForwardMSNFC on Twitter for live match updates
After a three-week road streak, Forward Madison FC returns to historic Breese Stevens Field on Saturday, September 9th. They'll face seventh place One Knoxville SC at 7pm CT for the second time at home. Both teams are looking to secure their spots in the playoffs, with only seven games left in the regular season.
Coaches and USL League One 2023 Records:
Forward Madison FC (10-8-7)
Head Coach: Matt Glaeser
One Knoxville SC (9-9-8)
Head Coach: Mark McKeever
Key Players to Watch:
Nazeem Bartman: The last time these two teams faced, Bartman scored the lone goal for the Flamingos. His eye for the field and ability to ignite quick counterattacks will be crucial to FMFC's offense on Saturday.
Derek Gebhard: Last weekend, Gebhard scored Forward Madison's only goal against Chattanooga. With his speed on the sideline and crafty footwork, look for Gebhard to create chances for his squad in the final third.
Jake Crull: Crull has proven to be a key defender for the 'Mingos backline. With a 67% rate of winning tackles and a 56% rate of winning duels, he is a force to be reckoned with for any opposing team.
Key Match Up:
Bernd Schipmann vs. Sean Lewis: Saturday's match will be a faceoff between the goalkeepers, as both are top contenders for the 2023 USL League One Golden Boot. Schipmann has 64 saves and 9 clean sheets on the season, and Lewis has 61 saves and 7 clean sheets. Look for both sides to come up with big saves in big moments to keep their squad in the game.
Key to the Match:
Defend as a Team, Advance as a Team: The last few results have not gone the way of the 'Mingos. However, they are still in the running for a USL League One playoff spot. When the team has looked their most dominant, it has been when the entire eleven has played as a unit. For Forward Madison to come out on top and get back to their winning ways, they will need to play cohesively from one end of the field to the other. This starts with the backline staying connected, the offense keeping possession, and the team capitalizing on opportunities in front of the net.
Previous and Next Match:The Flamingos come into this match after a 1-3 loss against Chattanooga Red Wolves SC. Next up, Forward Madison FC stays at home to play against Richmond Kickers on Thursday, September 14th at 7pm CT. Tickets for the match can be purchased here.