Alcohol
All guests over 21 years of age who would like to purchase alcoholic beverages can do so at concession stands throughout Breese Stevens Field. ALL guests will be required to show valid identification and proof of age when purchasing alcoholic beverages. No guest will be served more than two alcoholic beverages at any given time. No one under the age of 21 will be served alcohol at any time.
No alcoholic beverages can be brought inside the stadium. Any attempt to bring alcohol inside the stadium or possession of an alcoholic beverage not purchased at Breese Stevens Field may result in ejection without a refund. Guests will not be allowed to enter Breese Stevens Field if visibly intoxicated. Intoxicated and/or disorderly behavior may result in ejection from Breese Stevens Field without a refund. No alcoholic beverages served inside the stadium can be taken outside.
Animals
Guide, signal, and service animals are allowed inside Breese Stevens Field with fans that need their assistance. No other animals are permitted.
App
Download the FMFC app for exclusive team content, live game updates, digital ticket access, and more!
Bags
There are strict limitations on what bags are allowed at Breese Stevens Field. Types of bags that are allowed in the stadium:
bags smaller than 12" x 12" x 12" such as a small purse or personal bag. No backpacks. -1-gallon plastic freezer bags
Medically necessary bags and diaper bags
PLEASE DO NOT bring these types of bags:
backpacks
camera cases
large purses -Folding chair bag -Over-sized tote bags
All bags are subject to inspection by security personnel prior to entering the stadium.
Bicycle Parking
Bike parking is located around the perimeter of Breese Stevens Field, as well as a dedicated, indoor bike valet with a bike attendant at Gate 8 on Mifflin St. We encourage fans who are able to bike to the game to avoid parking issues!
Carry-Ins
Fans may bring one factory-sealed bottle of water into Breese Stevens Field.
Food and Beverage Policy
Fans are not allowed to bring any outside food or beverage items other than one factory-sealed bottle of water inside Breese Stevens Field. Please leave these items inside vehicles or dispose of them at the security checkpoint before entering the stadium. The only exceptions are food and beverage items for infants two years of age or younger and special considerations may also be made for medical reasons.
Food Menus
Visit this link to view the food options available for the 2023 season.
*Please note, all stadium concessions are cashless for the 2023 season.*
Kids Policy
Children ages 5 and under do not need a ticket for entry at the gates but they must sit in the lap of an accompanying adult. Tickets may be purchased separately at full price if the child requires a seat.
Lexus Owner Benefits
Lexus will provide Lexus drivers who show their Lexus key fob at Forward Madison games (at guest services) a voucher for a free non-alcoholic beverage or sandwich. Lexus owners will also receive pre-sale access to all applicable ticketed events at Breese Stevens Field. Lastly, Lexus will receive twenty-five (25) reserved parking spots for Lexus drivers at each Madison Forward home game and Breese Stevens Field Concerts. Lexus drivers can obtain these parking spots on a first come first serve basis.
Parking
For specific lots, please review the following parking map for the stadium. Fans are asked to refrain from parking on the residential streets surrounding Breese Stevens Field.
For handicap-accessible parking, please reach out to Accessimingos or reach out to the club at info@forwardmadisonfc.com.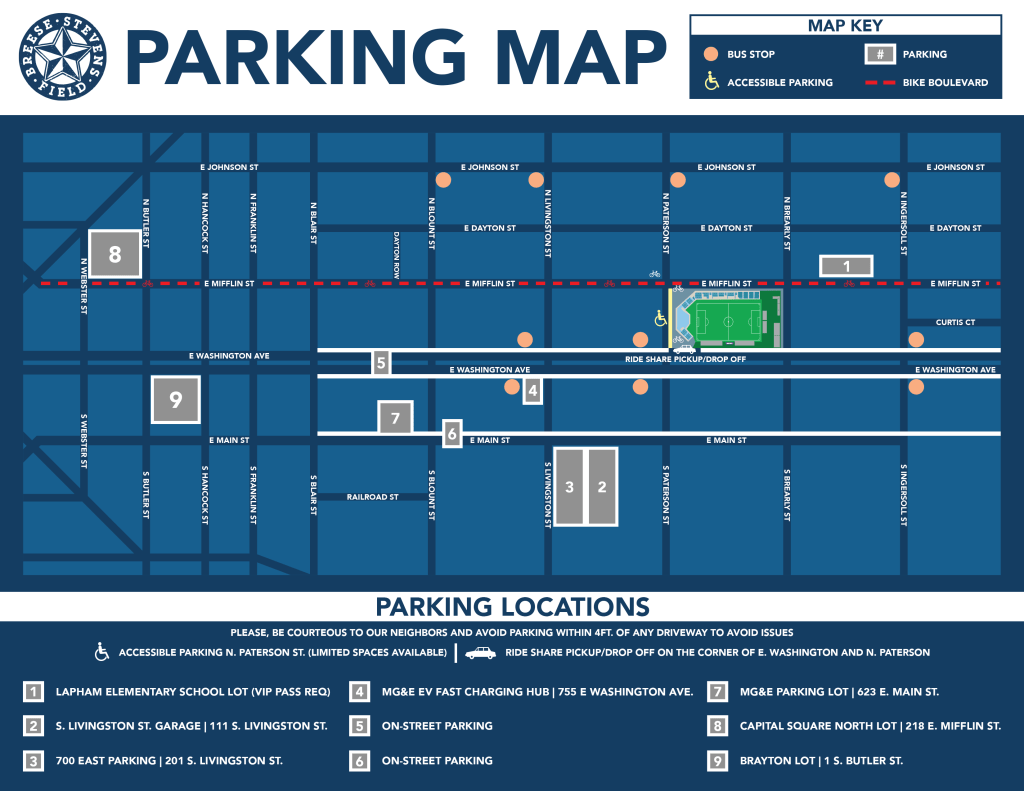 Re-entry
Fans may exit and re-enter the stadium using the same ticket.
Smoking
Breese Stevens Field, including exterior balconies, is a smoke-free facility. Smoking is prohibited in any enclosed public place, including Breese Stevens Field. Smoking is permitted outside, up to the exterior ticketing checkpoints.
Stadium Map
Streaming
All Forward Madison USL League One home and away matches in 2023 will be streamed on ESPN+. Unless otherwise noted below, all friendlies or non-league matches will not be streamed.
Umbrella Policy
Large items such as umbrellas are not permitted inside the stadium. Fans can drop off items at the Ticket Office located on the corner of N Paterson St and E Mifflin St and must pick up their belongings upon exiting the stadium.
Video Board Shout-Outs
Put a birthday message or special shout-out on the FMFC video board before a match! Fill out the form here and someone from our digital department will follow up with you accordingly.