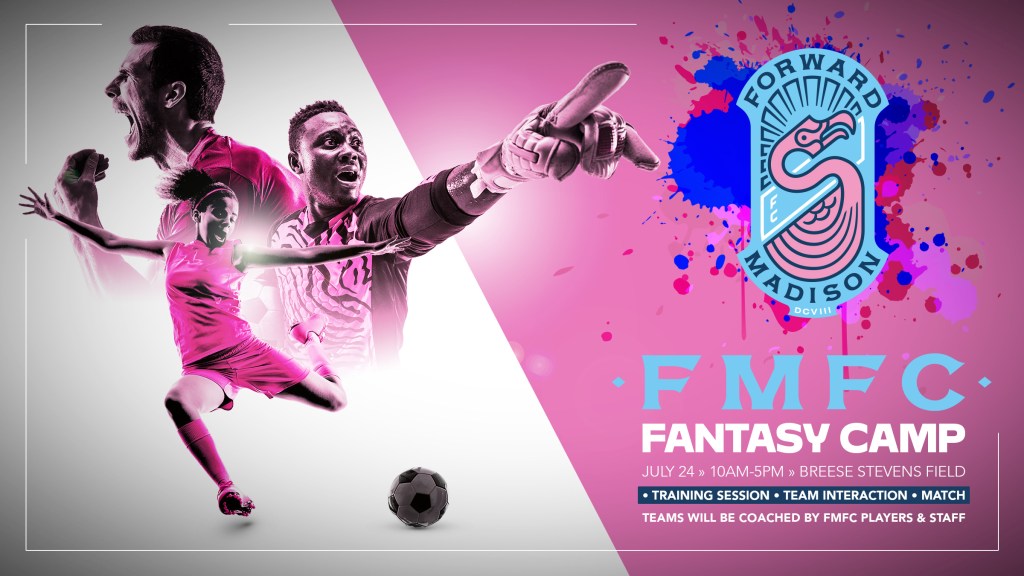 Forward Madison's Fantasy Camp is back for its second year! This year's camp will take place at Breese Stevens Field on July 24th from 10am-4:30pm. The camp is an amazing way to experience firsthand the day to day life of a professional footballer, while also having the opportunity to meet and connect with your fellow 'Mingos. Each camper will receive a customized pINK Kit, FMFC's 2022 Alternate Kit that recently was released.
The camp will start at 10am with a viewing of a FMFC practice (to get your soccer juices flowing), followed by a training session and chalk talk with the Forward Madison coaching staff. The day will be highlighted by competitive matches in the afternoon on the Breese Stevens Field turf. Forward Madison players will be on hand for the day, leading the sessions as well as coaching the teams! Please see below for a full agenda for the day:
10am-11:15am: Watch Practice
11:15am-12pm: Training Session
12:15pm-1pm: Lunch
1pm-1:30pm: Chalk Talk
1:30-2pm: Match Prep
2pm-3:45pm: Soccer Matches
3:45pm-5pm: Happy Hour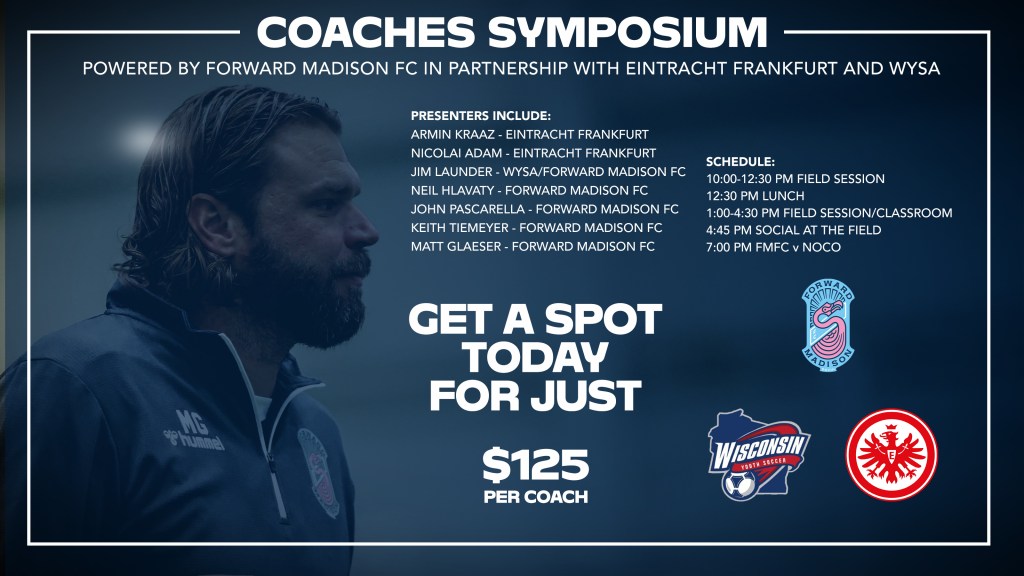 Forward Madison announced today that it will host a Coaching Symposium in July! The Symposium will include coaches from Forward Madison FC, German Bundesliga club Eintracht Frankfurt, and the Wisconsin Youth Soccer Association.
The event will take place on July 30th, 2022 and will take place at Breese Stevens Field. The day-long symposium will start at 10 am and include multiple training sessions on the field with the coaches and a classroom session. The symposium will conclude with a social event at the stadium and a ticket to watch Forward Madison's match against Northern Colorado Hailstorm FC that night!
This symposium, powered by FMFC, will feature UEFA Pro Licensed Coach and former Bundesliga player, Armin Kraaz, along with several FMFC coaches and a WYSA coach. Please reach out to Keith Tiemeyer at camps@forwardmadisonfc.com for any questions or concerns regarding this coaching symposium offering!
This camp, powered by FMFC, will host one, four day long camp in Madison for age groups 10-13 and 14-18. This camp will run August 1-4 at Breese Stevens Field in Madison. The Eintracht Frankfurt Youth Soccer Camp will be led by UEFA Pro Licensed Coach and former Bundesliga player, Armin Kraaz. Kraaz appeared in 123 Bundesliga fixtures and assistant managed the Eintracht Frankfurt first team in 2001. Nicolai Adam, Head of International Sports with Eintracht Frankfurt, will also be assisting in the running of this camp.

Appearances from several FMFC coaches and players will occur during this camp. All participants will receive a full Eintracht Nike training kit including a training top, shorts and socks. This elite skills camp will cost $250 per participant.
This camp is the latest in the partnership between Forward Madison and Eintracht Frankfurt. These camps help players of all skill levels level up their game and further the youth soccer initiative in the state of Wisconsin.
August Camp Registration: https://form.jotform.com/221286248070150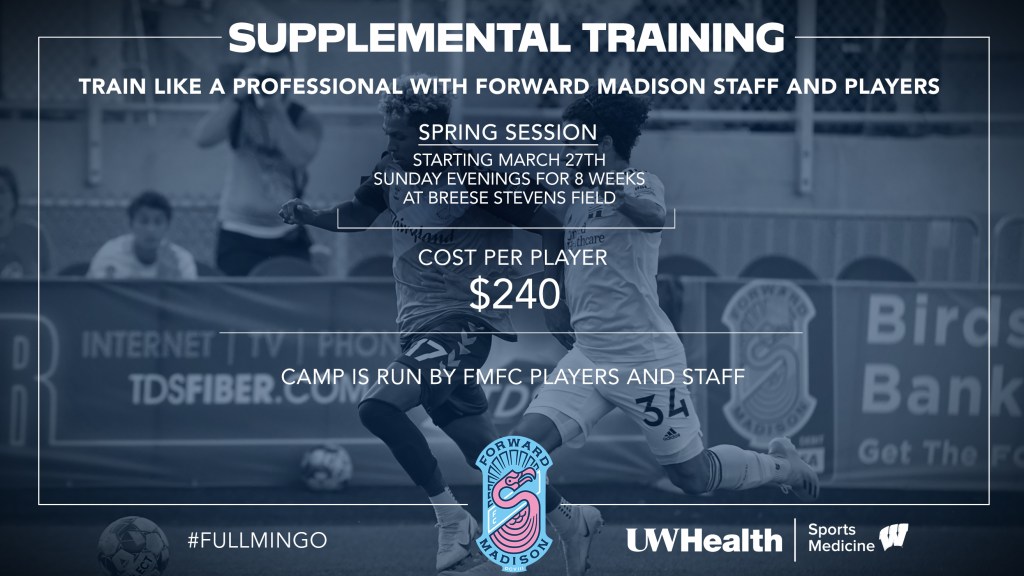 Want to take your technical skills to the next level? If so, now's your chance to train with some of the best youth players in the Madison area!
Our supplemental training sessions for the more experienced, advanced soccer players begins at the end of March and will run through the end of May. Each of these sessions will last approximately 90 minutes from 3-4:30pm. The training will be lead by Forward Madison FC players and staff, actively coaching camp participants through a multitude of technical work and small-sided games.
There will be eight clinic sessions that take place at Breese Stevens Field on Sunday evenings. The program will cost $240 per camper and is only available for boys soccer players in 7th-grade through senior year of high school, and for girls soccer players either in 7th or 8th grade or those not playing high school soccer.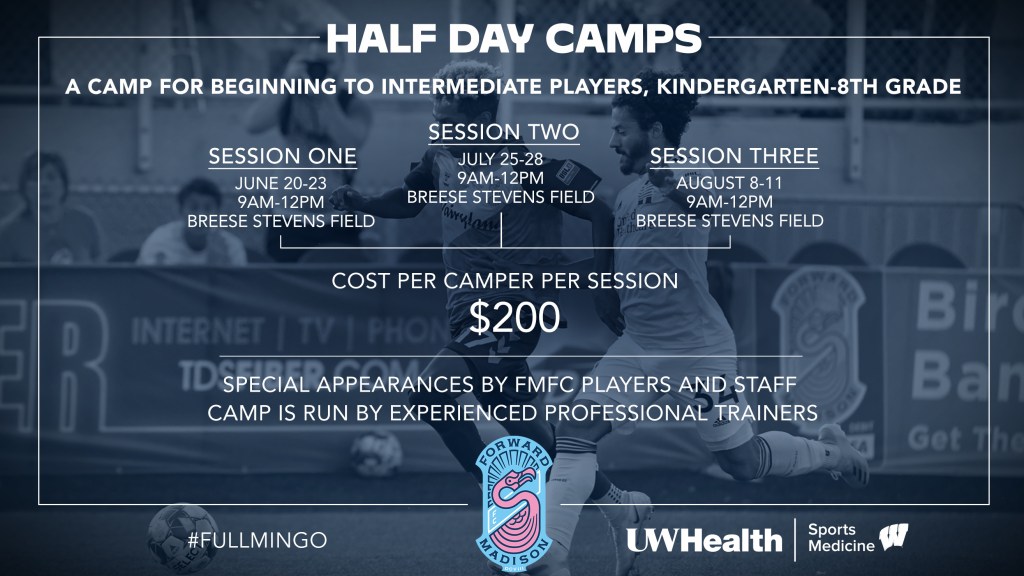 Do you want to keep your child entertained and active over the upcoming summer? If so FMFC's got the camp for you!
Our Half-Day Camp is open for beginner to intermediate soccer players in the Madison area and is designed for children from kindergarten through 8th grade to enroll in. The sessions are run by an experienced professional camp staff and will feature appearances by FMFC players and staff, so your child is sure to have a blast!
The camp will run for 4 days each from 9 am-12 pm, and it will cost $200 per camper per session. Sign up now for one of the three available sessions below:
June 20th-23rd at Breese Stevens Field
July 25th-28th
August 8th-11th
FORWARD MADISON FC YOUTH CAMPS PRESENTED BY: