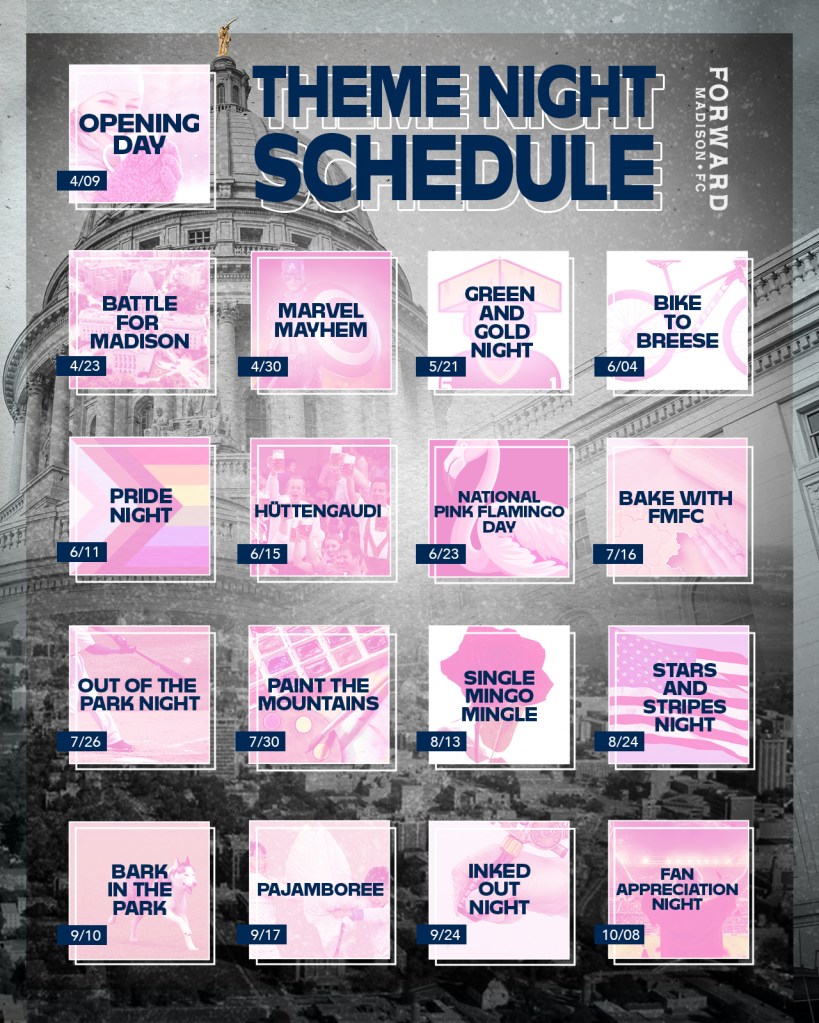 Get ready for some FMFC-filled fun at Breese Stevens Field this season! From superheroes to tattoos, we've got a theme night for just about anyone. Check out what we have in store below:
April 9th vs Union Omaha: Home Opener
Our home opener begins with a bang as we take on the defending champs in Madison. Remember our Snowopener a couple years ago? We're turning back the clock with a winter-themed ticket package sure to remind you of watching the Flamingos battle in the elements.
April 23rd vs UW-Madison: Battle for Madison
The 4th Annual Battle for Madison is back and to celebrate, we'll be having a theme based around Madison pride.
April 30th vs Central Valley Fuego FC: Marvel Mayhem
A night for all superheroes! Forward Madison welcomes USL League One newcomer Fuego FC to a night devoted to the great characters of the Marvel universe.
Saturday night's early kickoff at 5pm makes it the perfect match to bring your family to! Check out the following free activities at the match:
✅ Balloon Artist
✅ Yard Games
✅ Petting zoo
✅ FMFC cows
✅ Post-match autographs
Full story: https://bit.ly/3kfm4pP
May 21st vs Charlotte Independence: Green and Gold Night
The Quadfather. Quadzilla. AJ Dillon is coming to Madison! Meet the Green Bay Packers running back and get your picture taken with him at Green and Gold Night. Japansese Chizu Cheese Curds and Garlic Butter Cheese Curds will be available at the match.
June 4th vs FC Tucson: Bike to Breese
Madison features some of the best bike trails with one of greatest biking communities in the nation. Join us for the Trek Pride Ride to Breese. Once at the stadium, drop off your bike at our brand-new Trek Bike Valet, featuring secure and convenient bike parking.
June 11th vs Greenville Triumph: Pride Night
Kick off Pride Month with Forward Madison! This night will be filled with LGBTQ+ resources, Pride merch, and much more.
June 15th vs Paderborn: Hüttengaudi
Hüttengaudi: A traditional alpine cabin gala evening with rocking live music, games, and drinks. Join us as we celebrate German heritage with the elements of Hüttengaudi featuring Schnitzel, German beer, and even some German polka music!
June 23rd vs Richmond Kickers: National Pink Flamingo Day
A day to wear all your Flamingo attire! We don't need to say much about this one, think pink; think flamingo.
July 16th vs South Georgia Tormenta FC: Bake with FMFC
Calling all you Great British Baking Show fans, this night is for you! We'll have several Forward Madison-themed backing items available for purchase as well as a little surprise having to do with some of our players…
July 26th vs Union Omaha: Out of the Park Night
"Root, root, root for the home team!" We may be playing soccer on the pitch, but this night is all about America's Pastime. Look out for some limited edition items and participate in your favorite baseball traditions.
Stay after the match to catch the Unified Series match between the Wisconsin Special Olympics Unified soccer team and the Nebraska Special Olympics Unified soccer team. Both squads will be outfitted in their perspective USL League One club's apparel. This match is free to attend, we encourage you to stay to watch some great soccer action!

July 30th vs Northern Colorado Hailstorm FC: Paint the Mountains Night
Channel your inner Bob Ross with this night devoted to local art. Take part in a pre-match painting session and check out all of the local artists that will be displaying their works throughout the stadium!
August 13th vs Chattanooga Red Wolves SC: Single Mingo Mingle
This one's for all you Single Mingos out there! Also for all you Bachelor/Bachelorette fans out there…
August 24th vs North Carolina FC: Stars and Stripes Night
Help us celebrate American soccer and get ready for the World Cup with Stars and Stripes Night. Wear your Red, White, and Blue and enjoy some American favorites at Breese.
September 10th vs Chattanooga Red Wolves SC: Bark in the Park Night
Bark in the Park Night is back and better than ever! Bring your dog out to Breese and enjoy a night devoted to them.
September 17th vs North Carolina FC: Pajamboree
It's a pajama party! Wear your pajamas to the match and you might just win a prize for having the best bedtime outfit at Breese. This is the perfect match to bring the family to as it's an early start at 5pm. This night will also have a face painter, balloon artist, and a whole bunch of kids and family activities for everyone to enjoy.
September 24th vs South Georgia Tormenta FC: Inked Out Night
Show off your tattoos at Inked Out Night! Don't have a tattoo? Don't worry, we'll have some temporary FMFC-themed tattoos available.
October 8th vs Richmond Kickers: Fan Appreciation Night
A night devoted to you, the fans! Giveaways galore throughout the match, even for folks across the country.