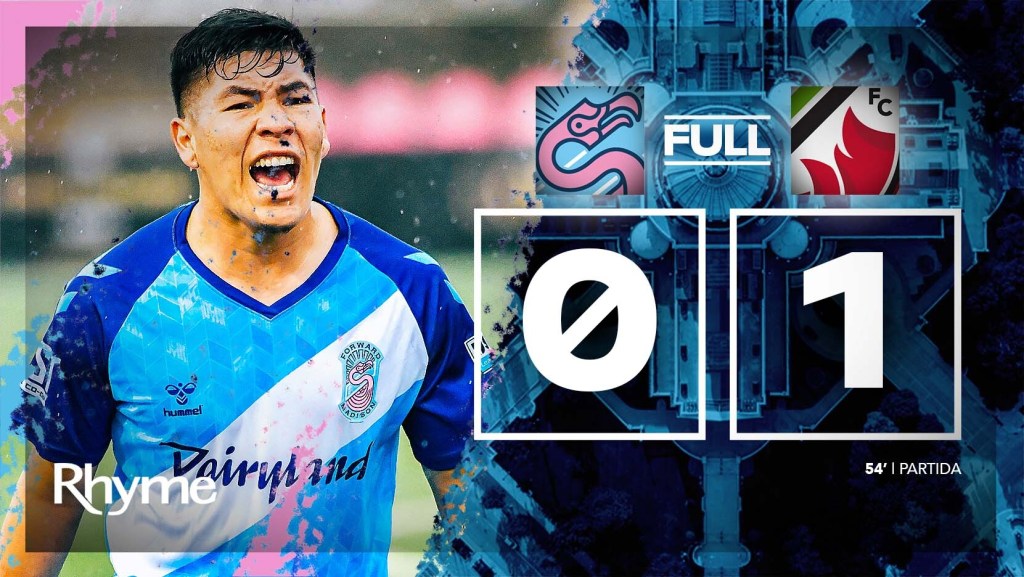 Forward Madison falls at home 1-0 to Central Valley Fuego FC
Forward Madison welcomed Central Valley Fuego FC to Breese Stevens Field on Saturday, April 30th. The match was scheduled to start at 5:00 pm CT but a storm delay led to the game starting around 5:30 pm. After a slow start to the half, Forward Madison grew into the game and managed to end the first half strongly. The Flamingos dominated the final 15 minutes of the first half as Fuego wasn't able to get any offense going and FMFC controlled possession of the ball.
Forward Madison's best chance of the half happened at the 25th minute mark, when the Flamingos were gifted a free kick and Eric Leonard stole possession and crossed the ball right across Fuego's goalkeeper.
After another slow start to the half, Central Valley Fuego managed to get on the board at the 54th minute mark after Phil Breno was caught on the ball out of the box which led to a quick steal by Fuego, resulting in a goal from distance for the road team. In the 65th minute, coach Matt Glaeser injected some energy into his team by subbing in Drew Conner and Nazeem Bartman for Audi Jepson and Alvin Jones. Glaeser continued adding speed into the lineup by subbing in Mélé Temguia and Justin Sukow for Eric Leonard and Mikey Maldonado in the 77th minute. Forward Madison continued to push the tempo but wasn't able to get a quality shot past the Fuego goalkeeper. With six minutes of stoppage time added to the clock, the Flamingos continued to control the possession and push the ball, increasing the intensity as the time ticked by, but nothing worked out as the club lost their first match of the season 1-0.
"We had 12 shots to their 1," Head Coach Matt Glaeser said. "There's definitely positives there."
"It's frustrating for us to not get a lot of opportunities, we need opportunities," Jeremiah Streng said. "We need to get to know each other as players, play together. I think it will come with time."
Next on the schedule, the Flamingos will head to Virginia to take on the Richmond Kickers on Saturday, May 7th at 5:00 pm CT. As for Fuego, their squad will battle Greenville Triumph SC on Saturday, May 7th at 9:30 pm CT.
——————————————————-
Major Moments:
4:18pm Lightning (34 minutes)
 5'  Free kick into box from Fuego, cleared at second attempt
10' Fuego freekick just outside the box – sent to the back post, headed in and cleared by Forward
13' great ball wide and over the top, Jepson with the back-heel into 11 Smith just wide near post
16' cross cleared by Forward
25' free kick to Forward, kept in by Leonard at the far post, tricky turn and great cross just evades the leaping Forward
27' 15 Mikey Maldonado Yellow (Madison)
34' Forward Madison sub (injury) #7 Mbacke Thiam off, in #10 Cassini
36′ Yellow Fuego #6 Ozzie Ramos
38' Madison free kick to the back post headed across but evades everyone
43' Smith brings it down in the box and narrowly misses but is called offside
44' Yellow for foul by Leonard
45' catch under pressure by Breno. Foul called
45 + 3 Maldonado with the long range shot – well over the bar
2nd Half
46' Fuego 10 Anthony Velarde off at the half for 3 Jesus Partida
49' Good run and ball to Cassini but he is narrowly offside
50' Great crossfield ball from Fuego, striker fails to take it down
51' Yellow to Fuego number 3 Jesus Partida
54' Madison corner (unforced error) clear
54' Goal to Fuego – Breno dispossessed well out of his box and Fuego #3 Jesus Partida
60' great play by forward, 14 passes ending with a shot just over
69′ 6 Ozzie Ramos out for [#22 Renato Bustamante] Fuego
77' 23 on, 30 Maxi Schenfeld off
77' 3 Leonard off (6 Temguia on)
77' 15 Maldonado off (19 Sukow in)
81' Fuego #5 and #13 both got yellow cards (81st minute)
87' Yellow card goalkeeper #1 Ofek Antman 
90' 6 additional minutes
90 + 4 good cross from Drew Connor headed wide 
90+6 Bartman with the yellow
Forward Madison FC
Formation:
1 Phil Breno
2 Murillo Jr.
3 Leonard (6 Temguia) 77'
4 Osmond ©
7 Mbacke Thiam [10 Cassini]
9 Streng
11 R. Smith
13 Enriquez
15 Maldonado (19 Sukow) 77'
16 Jones [8 Conner] 65'
29 Jepson [24 Bartman] 65'
Unused Substitutes: 0 P. Smith, 6 Temguia, 10 Cassini, 19 Sukow, 18 Alann Torres, 8 Conner, 24 Bartman
Head Coach: Matt Glaeser
————————————————–
Central Valley Fuego FC
Formation: 1-5-3-2
1 Ofek Antman
13 Francois Dulysse
5 Nathan Smith
4 William Gillingham
25 Michael Hornsby
7 Mouhamed Dabo
6 Ozzie Ramos [22 Renato Bustamante]
10 Anthony Velarde [off at the half for 3 Jesus Partida 45 mins]
17 Aquinas Akinlosutu
30 Maxi Schenfeld
20 Villyan Bijev
Unused Substitutes: 18 Mitchell North, 3 Jesus Partida, 27 Diego Casillas, 22 Renato Bustamante, 9 Christian Chaney, 28 Marco Torralva
Head Coach: Martin Vasquez
——————————————————–
Goals
Forward Madison
Minute' Full Name
Away Team
Minute' Full Name
——————————————————-
Discipline
Forward Madison
27' 15 Mikey Maldonado Yellow
44' Eric Leonard Yellow
Away Team
36′ Yellow #6 Ozzie Ramos
54' Yellow 3 Jesus Partida
60' Yellow 30 Maxi Schenfeld
——————————————————-
Referee Name
Forward Madison vs Central Valley Fuego
Breese Stevens Field (7PM ET)
REF: Jervis Atagana
AR1: Eric Wood
AR2: Kaitlyn Trowbridge
4TH: Peter Bernardy
Venue: Breese Stevens Field, Madison WI
Attendance: 2605