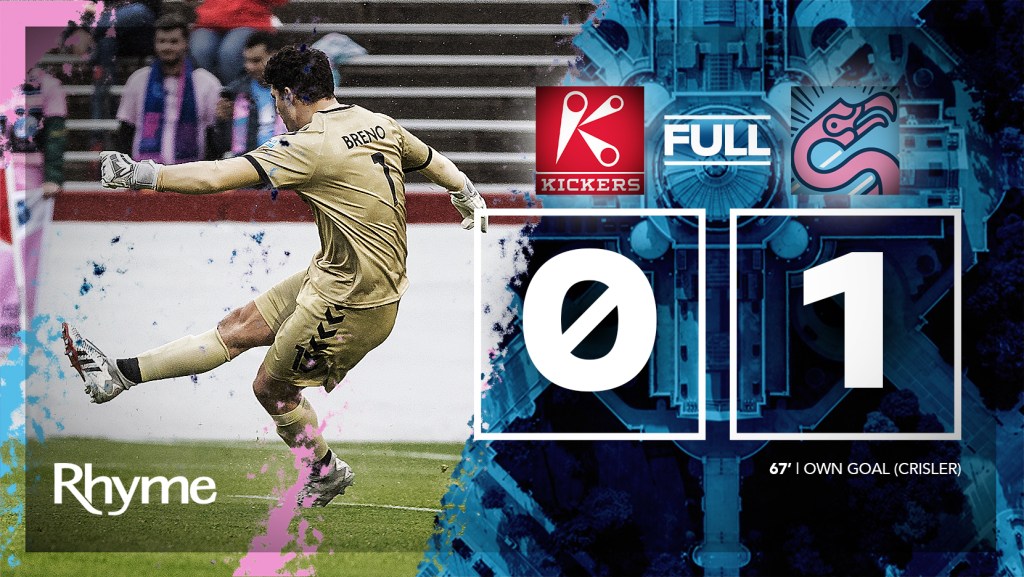 Forward Madison FC traveled to City Stadium in Richmond, VA for this year's first edition of the Henny Derby. The Flamingos came into the match sitting in last place in USL League One, while the Kickers came into the match on a hot streak in first in the league.
The weather was once again poor, few chances were seen early in the match as teams got acquainted with the pitch conditions. Richmond had one of the better chances in the early part of the first half that was blocked by defender Eric Leonard, before any threat was relevant to goalkeeper Phil Breno. Breno was called upon later in the half around the 28th minute, when Emiliano Terzaghi struck a ball low to Breno's right side. The Best opportunity came when Cassini was taken down outside the box resulting in a free kick that Audi Jepson took, beating the wall but not the keeper. The teams battled through some late back and forth chances with the half ultimately ending in a 0-0 draw.
The second half started much like the first, with both teams feeling out the match. The Flamingos were patient in the attack, awaiting a break in the Richmond back line. That's exactly what happened in the 67' minute when a ball was played to recent-substitute Justin Sukow, who took it inside and scored off a defender to fire the Pink and Blue into the lead. Richmond had several opportunities late in the 2nd half to equalize, but the defense stood tall and thwarted Richmond's attacks. The final whistle blew seeing FMFC gain 3 points with a 1-0 win on the road in a tough environment. 
"First and foremost, a clean sheet tonight," Eric Leonard said. " Justin Sukow off the bench, forcing an own goal to give us the lead. We need to keep improving as a group technically, but we're well on our way.
"It was a gutsy win," Head Coach Matt Glaeser said. "Definitely the best team we played against so far, it was a difficult game. We did whatever it takes and the guys did it.
Next on the schedule, the Flamingos will head to Greenville to take on the Greenville Triumph next Friday, May 13th. The next home match for the Flamingos occurs on May 21st against Charlotte Independence.
——————————————————-
Major Moments:
9' Yellow Card MAD Cassini
14' Yellow Card MAD Jones
19' Yellow Card MAD Murillo jr
33' Yellow Card RIC Terzaghi
45+2' Yellow Card RIC Vinyals
54' Yellow Card MAD Osmond
62' Yellow Card RIC Anue
65' SUB
Sukow on Jones off
Bolduc on Bryant off
67' GOAL MAD (Crisler OG)
80' SUB
Rad on Rojay off
Bartman on Cassini off
Baima off Bentley on
90+1' Yellow Card MAD Breno
Forward Madison FC
1 Breno
2 Murillo Jr.
3 Leonard
4 Osmond ©
8 Conner
9 Streng
10 Cassini
11 R. Smith
15 Maldonado
16 Jones
29 Jepson
Substitutes: P Smith, Temguia, Rad, Sukow, Torres, Bartman
Head Coach: Matt Glaeser
————————————————–
Richmond Kickers
1 Fitzgerald
2 Barnathan
5 Ritchie
6 Moran
8 Bryant
10 Vinyals
11 Baima
15 Crisler
22 Payne
24 Aune
32 Terzaghi
Substitutes: Palmquist, Bolduc, Bentley, Candla, Cole, Fitch, Gordon
Head Coach: Darren Sawatzky
——————————————————–
Goals
Forward Madison
68' Justin Sukow
Richmond Kickers
——————————————————-
Discipline
Forward Madison
9' Cassini
14' Jones
19' Cesar
53' Mitch
90+1' Breno
Away Team
33' Terzaghi
36' Crisler
45+2' Vinyals
63' Aune
——————————————————-
Venue: City Stadium, Richmond, VA