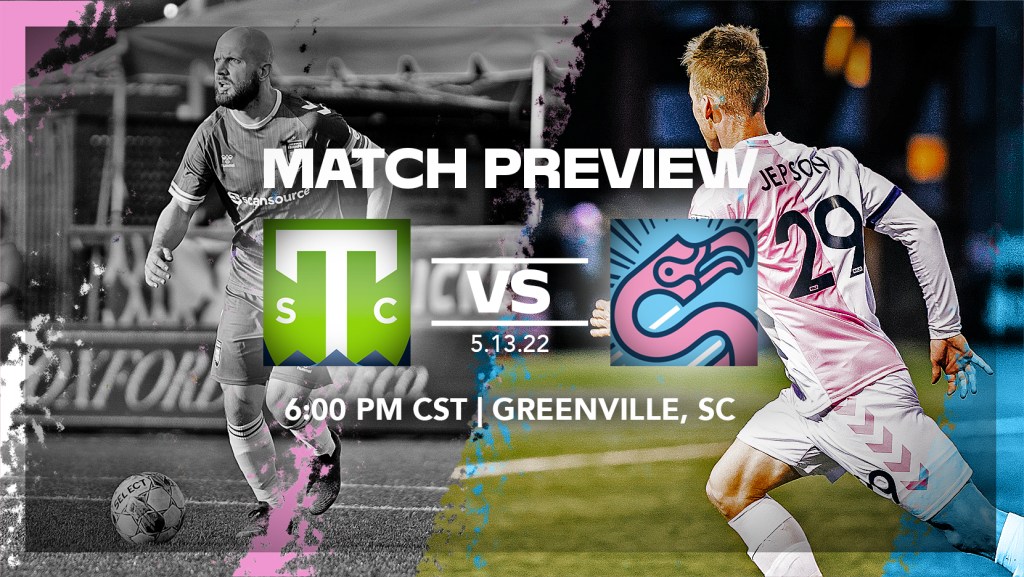 Friday, May 13th, 2022; 6:00 p.m. CT
Location: Legacy Early College Field
Follow @ForwardMSNFC on Twitter for live match updates
Forward Madison will travel to Greenville, SC, to take on the Greenville Triumph SC. The match is set to start at 6:00 pm CT on Friday, May 13th, at Legacy Early College Field. The Triumph won the most recent match up between these squads, 2-0, on September 13th, 2020.
FMFC currently sits at 7th in the standings following an impressive 1-0 victory over the Richmond Kickers on Saturday, May 7th. Forward Madison took the lead thanks to a Justin Sukow shot that deflected off a Richmond defender in the 67th minute. Next up, the Flamingos will welcome Charlotte Independence to Breese Stevens Field for a match on Saturday, May 21st, 2022.
The Greenville Triumph are currently sitting at 9th in the standings entering Friday's match. The Triumph are coming off a 1-1 draw with Central Valley Fuego FC. Greenville will then battle North Carolina FC on Saturday, May 21st, 2022.
Coaches and USL League One 2022 Records
Greenville Triumph (1-2-2)
Head Coach: John Harkes
Forward Madison FC (1-1-3)
Head Coach: Matt Glaeser
Key Players to Watch:
Forward Madison
Matheus Cassini: The crafty Brazilian number 10 has been pulling the strings in the Flamingos midfield this season. He has created the most chances for FMFC this season (7) and continues to be an exciting introduction to Forward Madison's team sheet.
Mitch Osmond: The Australian center back has been a force for FMFC's backline all season. Osmond ranks in the top three on Forward Madison for clearances, interceptions, and tackles. Osmond is also a great distributor from the back, attempting the third most passes in the league (337) with 84.9% passing accuracy.
Eric Leonard: After becoming the most capped player in FMFC history last weekend with 73 appearances in 4 seasons, Leonard is expected to put in another strong showing on Friday in Greenville. He is an anchor in defense, ranking second in the league in clearances (30). His composure and experience make him a staple in the spine of the team.
Key Match Up
FMFC Full Backs vs Greenville Wingers:
The key match up for this contest is the Forward Madison FC full backs Mikey Maldonado and Alvin Jones against the Greenville wide midfielders Allen Gavilanes and Jesus Ibarra. Greenville have attempted the most crosses in the league this year, with most of them coming from the foot of Allen Gavilanes (45) and Jesus Ibarra (24). The deliveries from these wide players have been quality with Gavilanes being tied for the most chances created in the league (10) and Ibarra close behind (6).
Looking at Maldonado and Jones, both had strong showings in Richmond on Saturday. Maldonado, playing in midfield due to injuries, provided a defensive presence to the Flamingos with a pair of interceptions and 4 clearances. Jones played in his familiar role at full back and also had a pair of interceptions and 3 clearances. Maldonado and Jones combined for 5 tackles against the Kickers, almost half of FMFC's total of 11.
It is expected to have much of this game played down the flanks, with the Greenville wingers attempting to break down the FMFC full backs.
Keys to the Match
Mental Fortitude: Greenville is a tough place to play in USL League One. It'll be imperative for the Flamingos to not let the away environment affect their style of play and instead focus on executing the game plan to its fullest extent.
Convert Set Piece Opportunities: The focus for the beginning of the season was on defending set pieces for the FMFC side. With the defense stepping their game up for the Flamingos, it's important to shift the focus offensively to convert set piece opportunities close to the opponent's net. Look for Christian Enriquez and Matheus Cassini to make an impact in this area.
Previous and Next Match
Forward Madison's last match resulted in a huge win, as the Flamingos took down the previously-top record team in the USL League One, the Richmond Kickers, 1-0. Looking ahead, Forward Madison will host Charlotte Independence on Saturday, May 21st, 2022 at 7:00 pm CT. After that, FMFC will head to Fresno, CA to take on Central Valley Fuego on May 28th at 9:30 pm.
Greenville Triumph SC is coming into Friday's match following a 1-1 draw with Central Valley Fuego FC. Next up, the Triumph will travel to North Carolina to battle North Carolina FC on Saturday, May 21st, 2022.