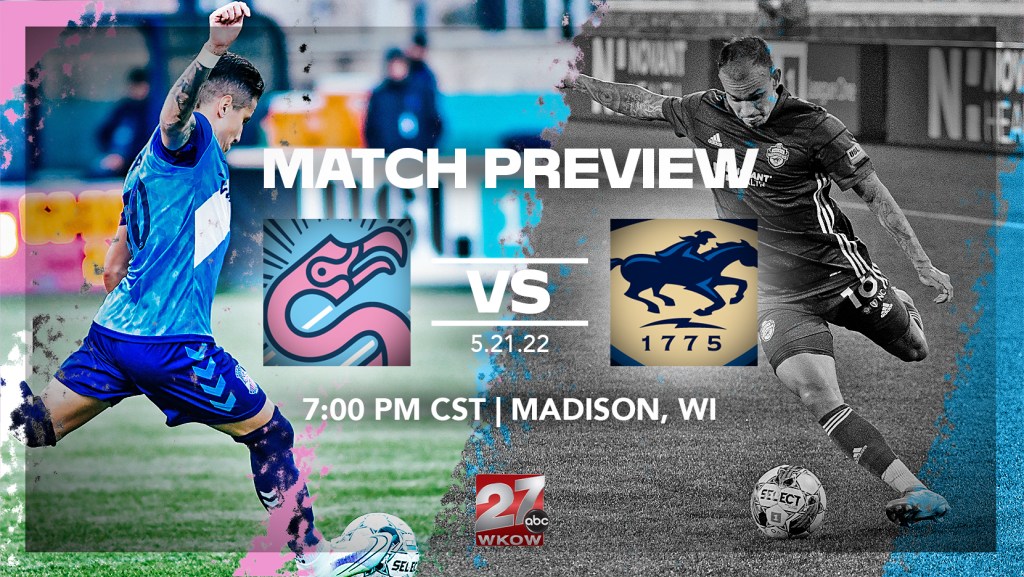 Saturday, May 21st, 2022; 7:00 p.m. CT
Location: Breese Stevens Field
Follow @ForwardMSNFC on Twitter for live match updates
Forward Madison will host Charlotte Independence on Saturday, May 21st, 2022 at 7:00 p.m. CT. The match will take place at Breese Stevens Field where FMFC will also be welcoming the Green Bay Packers' running back AJ Dillion for photos with fans from 6 p.m. up until the match kick off! This will be the first ever battle between the club's, as Charlotte Independence has played in the USL Championship League up until this season.
The match will be an important one as the Flamingos sit at 9th in the standings, while Charlotte holds the 3rd best record in the league. FMFC is coming off a 2-0 loss to the Greenville Triumph on May 13th. Eric Leonard provided a boost and was awarded Mingo of the Match honors for his stellar defensive efforts to keep the Flamingos in the game. Looking ahead, Forward Madison will travel to Fresno, California to take on Central Valley Fuego FC on May 28th, 2022.
Charlotte Independence is entering Saturday's match following a match with Northern Colorado Hailstorm FC this Wednesday. After their game in Madison, Charlotte will head to South Carolina to take on the Greenville Triumph on June 4th.
Coaches and USL League One 2022 Records
Foward Madison FC (1-2-3)
Head Coach: Matt Glaeser
Charlotte Independence (3-1-2)
Head Coach: Mike Jeffries
Key Players to Watch:
Forward Madison
Jeremiah Streng: The Finnish striker has seen an uptick in minutes recently and has started the last three games for the Flamingos. Streng has been a force on the offensive end, registering six shots in the last four games. FMFC will need to get production from Streng if they want to be able to topple Charlotte on Saturday.
Mikey Maldonado: Maldonado has been impressive on the defensive end all season, ranking fourth on the team in clearances (8), third in blocks (3), third in interceptions (10), and he leads the team in tackles (12). Expect coach Matt Glaeser to rely heavily on the 23-year-old as the club is set to take on the second-best offensive team in the USL League One, a club that already has scored 10 goals this season.
Justin Sukow: The Illinois product has seen his playing time increase as the season has gone on and could play a key role Saturday against Charlotte. Sukow currently leads the club in passing accuracy with an 88.5% success rate while he's been one of the most dominant Flamingos with the ball in their own half, completing 96% of those passes successfully.
Key Match Up
FMFC Strikers vs Charlotte Strikers:
The key match up for this contest is the Forward Madison strikers of Jeremiah Streng, Nazeem Bartman, and Abdou Mbacke Thiam against the Charlotte Independence strikers of Miguel Ibarra, Khori Bennett, and Tresor Mbuyu, who leads the USL League One in goals with four. Charlotte's offense have been dominating the league this season, ranking second in goals (10), third in total shots (75), and third in shot conversion rate (18%). While their offense has been hot, their defense has struggled as they've allowed eight goals compared to Madison's seven goals conceded.
Coach Matt Glaeser will need to rely heavily on production from his strikers if they want to take down Charlotte on Saturday. Expect Glaeser to coach his strikers to push the ball on counter attacks and to be aggressive throughout the match. Jeremiah Streng will need to get some shots on the Charlotte goalkeeper early to get the Flamingos offense rolling from the start of the match.
Keys to the Match
Shots on Goal: Charlotte's defense has been one of the club's main weaknesses this season. If FMFC wants to take down a poor defensive team they will need to be able to get quality shots on goal throughout the match. In order to do this the FMFC strikers will need help from the Flamingos' midfielders to create quality chances to score.
Create Chances to Score: The key for FMFC to get shots on goal will be the club's ability to record corner kicks, set piece opportunities, as well as pushing the ball on counterattacks. If the Flamingos can get a decent amount of corners and penalty kicks in the match, they should have no problem logging shots on the Charlotte goalkeeper.
Previous and Next Match
Forward Madison entered Saturday's match with Charlotte following a 2-0 loss to Greenville Triumph on May 13th, 2022. As for the road ahead for FMFC, the Flamingos will battle with Central Valley Fuego FC on May 28th, then they'll take on FC Tucson at Breese Stevens Field on June 4th.
Charlotte Independence won their most recent match against FC Tucson on May 15th, and they'll take on Northern Colorado Hailstorm FC on Wednesday, May 18th. After the match with FMFC, Charlotte will hit the road to battle it out with the Greenville Triumph on June 4th.