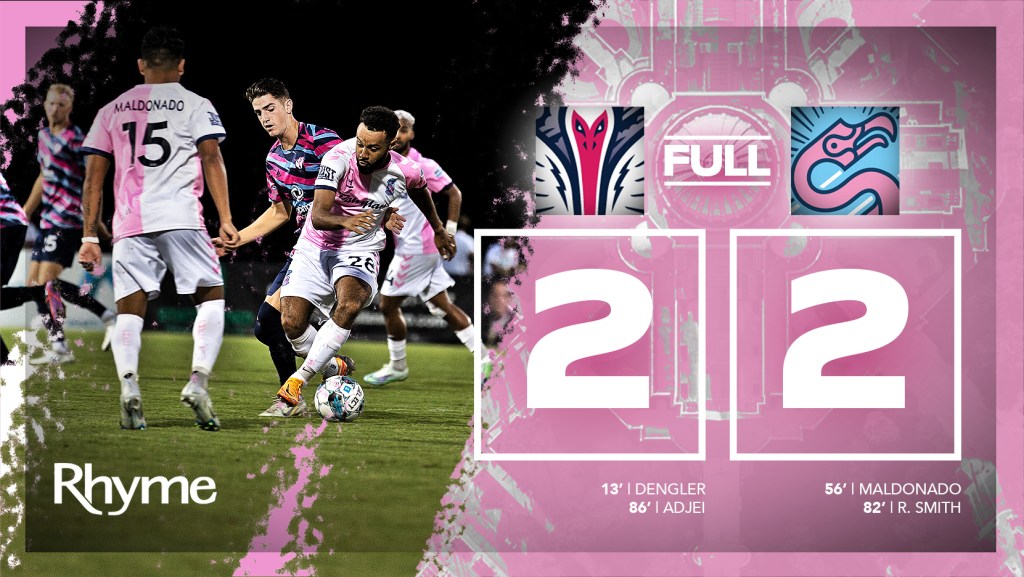 Forward Madison FC headed to Georgia for a Sunday evening matchup against USL League One opponent South Georgia Tormenta FC. The match kicked off at 6:30pm CT from Eagle Field in Statesboro, GA.
The match got off to a slow start for the Flamingos with Tormenta FC Showing their attacking threat early. With a few quick chances, they were able to get on the board off a corner kick in the 13' courtesy of Jake Dengler. The first chance for the Flamingos came off a shot from Mikey Maldonado in 19' when he dribbled past a defender and entered the box, pushing his shot just wide of the goal. The tides shifted as Forward Madison got into rhythm of the match with a flurry of chances in the 30'. One such chance came via Abdou Mbacke-Thiam on an acrobatic attempt at goal that scurried just wide of the net. The Flamingos entered the half down 1-0.
The second half started with a stint of possession for the Flamingos with no chances coming from it. The game then became very back and forth, with a majority of the match being played in the middle third of the pitch. A goal for the Flamingos came from the foot of Mikey Maldonado in the 56' when he received a flighted through ball from Alann Torres. Mikey snuck it by the goalie and played it into the back of the net. The game changed course with the momentum riding with the Flamingos. Another chance came for FMFC in the 76' as they broke out into a counter, ending with the Tormenta defender heading the ball out of play for a Forward corner. The go ahead goal came in the 82' when Mikey Maldonado laid the ball off to Rojay Smith, who sent a shot at goal that took a deflection into the back of the net. Tormenta equalized late in the game with the goal coming from their winger Kingsford Adjei. After a frantic last couple of minutes, the match ended in a 2-2 tie.
"It's always good to get a point on the road," Neil Hlavaty, leading coach of tonight's squad said. "We put ourselves in a position to obtain three, so there's disappointment there. Given the reaction in the 2nd half, the group can take positives from it. We needed to find a group reaction, which you saw that in the way we played. We had very impactful subs, definitely changed the game for us."
Hlavaty expanded to touch on Alann Torres impact out on the pitch. "Alann is a guy that we all know has potential. He's been in the equation to start games, it was an easy decision to bring him in when Drew went down with that unfortunate injury. Alann's diagonal passing ability and confidence speak for itself."
Next on the schedule, the Flamingos will take on Richmond Kickers at Breese Stevens Field on June 23rd at 7pm.
——————————————————-
Major Moments:
9' TRM Foul
12' TRM Shot
13' TRM Corner
13' TRM GOAL (Jake Dengler)
14' MAD Shot
19' MAD Shot
23' TRM Foul
25' TRM Foul
32' TRM Foul Yellow (Adeniyi)
33' MAD Shot
35' TRM Foul
40' TRM Corner
41' MAD Foul Yellow (Dean)
42' TRM Foul
Second Half
55 TRM Sub (Otieno ON 14 Morrell OFF)
48' MAD Sub (18 Torres ON 8 Conner OFF)
51' MAD Yellow (Torres)
53' MAD Corner
56' MAD Goal (Maldonado)
70' MAD Sub (11 R. Smith, 9 Streng, 47 Rad ON 24 Bartman, 7 Mbacke-Thiam, 5 Dean OFF)
73' TRM Corner
74' TRM Shot
76' MAD Shot
77' TRM Sub (13 Umeda ON 8 Cabral OFF)
80' TRM Foul
81' MAD Foul
82' MAD Goal (Rojay Smith)
86' TRM Goal (Adjei)
88' MAD Foul (Rad)
90+3' TRM Foul
90+3' TRM Yellow (25 Dengler)
90+4' TRM Foul
90+4' TRM Yellow (12 Nembhard)
90+5' MAD Shot
90+5' MAD Corner
90+5' MAD Foul
Forward Madison FC
1 Breno
3 Leonard
4 Osmond ©
5 Dean
7 Mbacke-Thiam
8 Conner
10 Cassini
15 Maldonado
17 Gebhard
24 Bartman
28 Wheeler-Omiunu
Substitutes: P. Smith, Rad, Torres, Temguia, R. Smith, Sukow, Streng
Lead Coach: Neil Hlavaty
————————————————–
South Georgia Tormenta FC
1 Pablo Jara ©
3 Owen Green
7 Kingsford Adjei
8 Gabriel Cabral
10 Adrian Billhardt
11 Jamil Roberts
12 Deshawon Nembhard
14 Alex Morrell
20 Fuad Adeniyi
21 Chris Heckenberg
25 Jake Dengler
Substitutes: Bush, Boegel, Gottlieb, Otieno, Umeda, Soto
Head Coach: Tom Morris
——————————————————–
Goals
Forward Madison
56' Mikey Maldonado
82' Rojay Smith
South Georgia Tormenta FC
13' Jake Dengler
86' Kingsford Adjei
——————————————————-
Discipline
Forward Madison
41' Yellow Dean
51' Yellow Torres
88' Yellow Rad
Away Team
32' Yellow Adeniyi
90+3' Yellow Dengler
90+4' Yellow Nembhard
——————————————————-
Venue: Eagle Field, Statesboro, GA