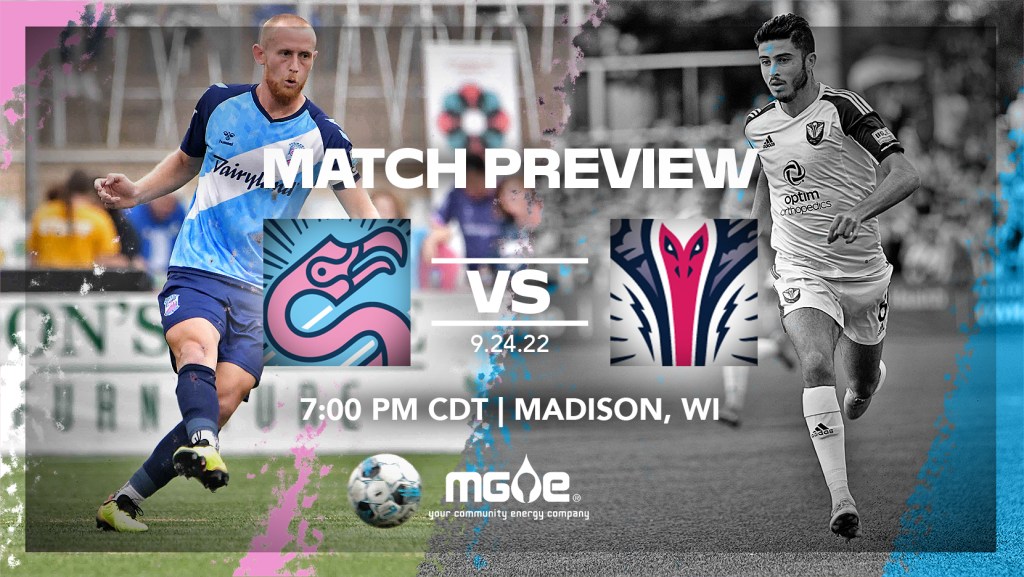 Saturday, September 24th, 2022; 7:00 p.m. CT
Location: Breese Stevens Field, Madison, WI
Follow @ForwardMSNFC on Twitter for live match updates
Forward Madison FC will welcome South Georgia Tormenta FC to Breese Stevens Field on Saturday, September 24th at 7:00 pm CT. The USL League One match will kick off at Breese Stevens Field in Madison, Wisconsin. Last time Forward Madison played against South Georgia, the 'Mingos defeated Tormenta 2-0 at home on July 16th. In that match Rojay Smith and Matheus Cassini both tallied second-half goals to win the 'Gos the game. 
The Flamingos enter Saturday's match following a tough 0-3 loss to Central Valley Fuego on Wednesday, September 21st. Next up after taking on Tormenta, Forward Madison will host a match against the Richmond Kickers on Saturday, October 8th at 7:00 pm CT. 
South Georgia heads to Madison after tying against FC Tucson on September 16th. Looking ahead, Tormenta will return home to welcome the Richmond Kickers for a match on October 1st.
Coaches and USL League One 2022 Records:
Forward Madison FC (7-11-9)
Head Coach: Matt Glaeser
South Georgia Tormenta FC (10-7-9)
Head Coach: Ian Cameron
Key Players to Watch:
Forward Madison
Raiko Arozarena: The Cuban goalkeeper played his first game in the Pink and Blue against Tormenta, and he impressed from the get go. Arozarena faced 14 shots and held South Georgia scoreless en route to a 2-0 victory. Expect the 25-year-old keeper to bounce back after the Fuego match and have an effective time defending the goal against South Georgia. 
Eric Leonard: Leonard rejoined the 'Mingos on Wednesday after he suffered an injury in the squad's September 10th match against Chattanooga. The Illinois native currently leads his club in clearances (87), blocks (17), and interceptions (41). Now that he's back in the lineup and only getting healthier, expect Leonard to continue to do what he's done all season: make smart passes and shut down the opponent's top strikers.
Abdou Mbacke-Thiam: The Senegalese striker has had a difficult time creating chances recently. Mbacke-Thiam is second on the squad in shots on target with 13, although he hasn't scored a goal in over a month. If the 'Mingos want to take down Tormenta again, they'll need their 30-year-old striker to step up and get some shots on target on Saturday.
Key Match Up:
Forward Madison FC Backline vs. South Georgia Tormenta FC Backline
The key match up for this contest is the Forward Madison FC backline of Eric Leonard, Mitch Osmond, Cyrus Rad versus the South Georgia Tormenta FC backline of Jake Dengler, Deshawon Nembhard, and Joshua Phelps. The prior two matchups in this FMFC-Tormenta series have been very close defensive battles, so expect this one to be similar.
Forward Madison and South Georgia's backlines have been strong for much of the season. FMFC has conceded 41 goals on the year while Tormenta has allowed 38 goals. The Flamingos' top defender on the backline this year has been Eric Leonard. Leonard has the sixth most clearances in the league and he leads his squad in most of the crucial defensive statistics. The Illinois native has played on the backline alongside Rad and Osmond for most of the year. The FMFC backline trio has been effective against Tormenta so far as they've allowed only 2 goals and 7 total shots on target in two matches. Expect Leonard to lead his backline into this crucial match against Tormenta.
The other side of this matchup is the Tormenta backline. South Georgia's top defender this season has been Jake Dengler. Dengler leads his team in clearances with 125 and ranks third in the league for that defensive stat. Not only does the 23-year-old lead his team in clearances, but he ranks second in blocks (19) and third in interceptions (35). Tormenta's backline has also been playing effectively recently, as they've allowed five goals in their last five matches. This backline versus backline matchup on Saturday should be good as the prior two matches have been close. Expect this match to ultimately be decided by which backline plays more effectively.
Keys to the Match:
Play Aggressively – Forward Madison played very aggressively in the last match against Tormenta and it ended up working out in the squad's favor. Matt Glaeser will need to get his squad energized as he did before the previous meeting with South Georgia. The FMFC coach will also likely put out a starting nine that is going to tirelessly pressure Tormenta from the opening kickoff. 
Dominate Possession – In the first match against Tormenta, which ended up in a 2-2 draw, FMFC controlled possession 55-45%. In the second match against Tormenta, which FMFC won, the 'Mingos dominated possession 64-36. In this third and final match, Forward Madison will need to dominate the possession once again if they hope to shut down Tormenta's attack. 
Previous and Next Match:
Forward Madison FC returns home after a 0-3 loss to Central Valley Fuego on Wednesday. Looking ahead on the schedule, the 'Mingos will take on the Richmond Kickers at home on October 8th.
Tormenta travels to Wisconsin following a 1-1 draw against FC Tucson on September 16th. Next up after taking on FMFC, South Georgia will return home to face off against the Richmond Kickers on October 1st.