An early goal and red card leads to FMFC's first loss of the season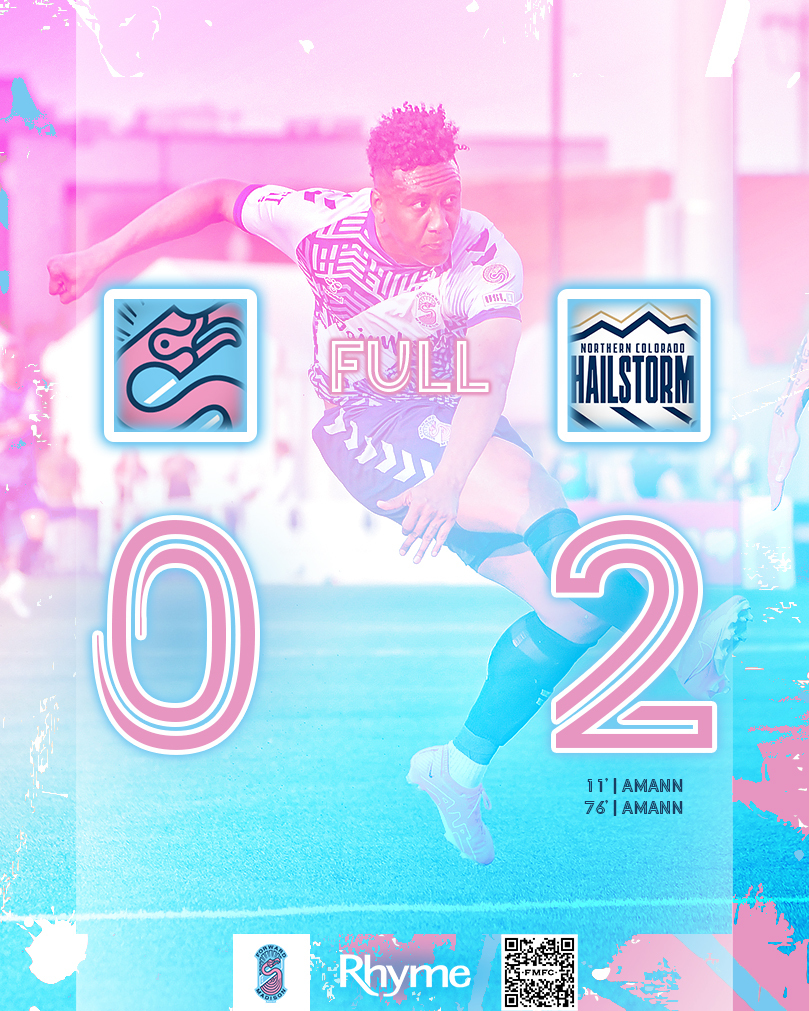 Forward Madison FC was back home to battle Northern Colorado Hailstorm FC at Breese Stevens Field on Thursday, May 18th. The match kicked off just after 7pm CT.
The beginning of the match started strong for the Flamingos, as the team had two early opportunities on goal. However, Northern Colorado capitalized in the 11th minute after an unfortunate turnover, putting the Mingos down by one early. Forward Madison kept the pressure up as they tried to even the score. Flamingo's goalkeeper, Bernd Schipmann, came up with a major save to keep the game within one. With ten minutes left of the first half, FMFC stayed on the attack, tallying three major scoring opportunities, one of which Christian Chaney buried in the back of the net, but was called offsides. The Flamingos left the field at halftime, down one.
With the second half underway, the game became more aggressive. In the 51st minute, Timmy Mehl received his first red card of the season after fouling a Northern Colorado player in the box. However, Schipmann saved his second PK of the season, keeping the 'Mingos in the game. Reduced to 10 players on the field, the game slowed down. In the 75th minute, Northern Colorado put away their second goal to finish the match and break Forward Madison's unbeaten streak this season. The match ended with the Hailstorm besting the Flamingos 2-0.
"Tonight was not our night," FMFC Head Coach Matt Glaeser said. "We made some mistakes that ultimately cost us the match."
"We now look to work to improve every day and work on correcting those mistakes," Glaeser said.
"I always believe that we don't lose at home," FMFC's Schipmann said. "We have 25 matches left. I told the guys that we need to believe in ourselves, learn from the match tonight, and have a great season."
"We know our identity and what we're capable of," FMFC defender Stephen Payne said. "We made some mistakes tonight, but we have to look at the positives of what we've done before this season. We just need to get back to what we know best and find more ways to score and put pressure on the opponent."
Next up, Forward Madison will travel to Nebraska for a rematch against Union Omaha on Saturday, May 27th at 7pm CT.

Forward Madison FC Lineup:

55 Schipmann
22 Payne
4 Osmond (C)
5 Mehl
16 Crull
7 Martinez
23 Mesias
10 Onen
14 Cichero
17 Gebhard
9 Chaney
Substitutes: Sanchez, Screen, Brotherton, Conerty, Bartman, Jno-Baptiste, Prentice
Head Coach: Matt Glaeser
——————————————————-
Northern Colorado Hailstorm FC Lineup:
1 Delgado
14 Rogers
7 Opara
4 Cornwall (C)
2 Evans
6 Kwakwa
27 Rendon
18 Dietrich
19 King
9 Amann
22 Lukic
Substitutes: Penaranda, Folla, Clarke, Nortey, Hernandez, Rosas, Sabella
Head Coach: Éamon Zayed
——————————————————–
Major Game Moments:
1st Half
1' FMFC Foul
3' FMFC Corner
4' FMFC missed opportunity by Gebhard
7' FMFC missed opportunity by Chaney  
8' NOCO foul
9' NOCO foul
11' NOCO goal
13' FMFC major opportunity #14 Cichero
17' NOCO yellow card #6
22' NOCO corner
26' NOCO foul
28' FMFC foul #5 Mehl
29' FMFC major save #55 Schipmann
29' NOCO corner
31' FMFC foul #10 Onen
34' FMFC major opportunity
34' FMFC corner
37' FMFC foul #9 Chaney
38' NOCO yellow card #9
40' FMFC major opportunity
45 +1' FMFC yellow card #14 Cichero
45 +1' FMFC major opportunity
Half Time: FMFC 0  – NOCO 1
2nd Half
47' NOCO yellow card #7
49' NOCO foul
51' FMFC red card #5 Mehl
53' NOCO PK
53' saved PK #55 Schipmann
53' NOCO corner
54' NOCO corner
58' NOCO yellow card #27
59' FMFC major chance #9 Chaney
62' FMFC corner
62' NOCO #8 in for #4
68' FMFC sub #24 Bartman in for #17 Gebhard
68' FMFC sub #19 Prentice in for #65 Onen
68' NOCO sub #11 in for #22
69' NOCO foul
70' FMFC foul #14 Cichero
72' FMFC foul #24 Bartman
73' NOCO corner
75' NOCO goal #9
78' FMFC sub #18 Jno-Baptiste in for #14 Cichero
78' FMFC sub #8 Conerty in for #23 Mesias
81' NOCO sub #30 in for #18
81' NOCO sub #47 in for #19
82' FMFC corner
87' FMFC sub #2 Screen in for #7 Martinez
88' NOCO corner
89' NOCO foul
90' FMFC corner
90 +1' FMFC foul
Full Time: FMFC 0 – NOCO 2
Discipline:
17' NOCO yellow card #6 Kwakwa
38' NOCO yellow card #9 Amann
45 +1' FMFC yellow card #14 Cichero
47' NOCO yellow card #7 Opara
51' FMFC red card #5 Mehl
58' NOCO yellow card #27 Rendon
——————————————————-
Venue: Breese Stevens Field, Madison, WI. Attendance: 3537