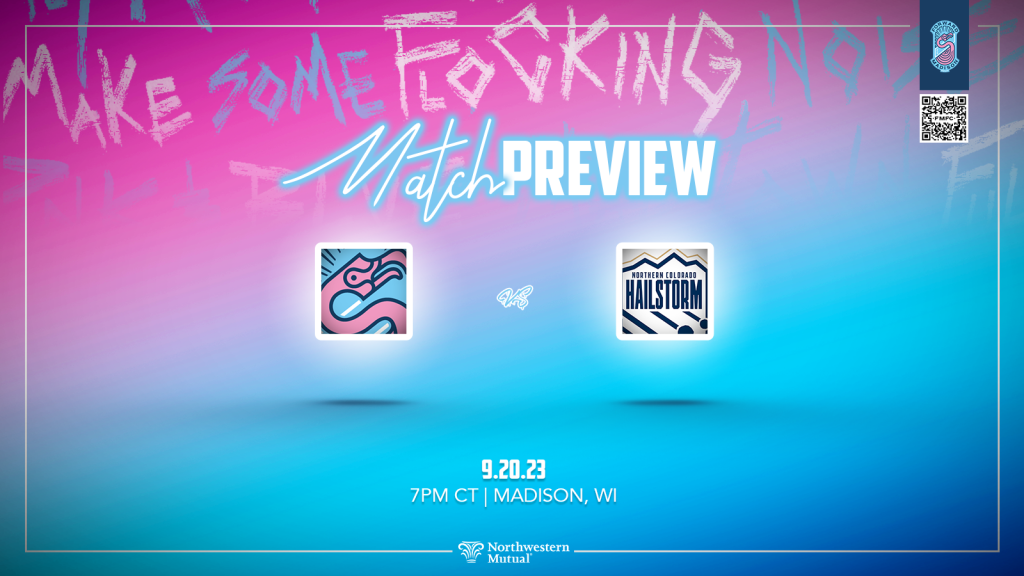 Wednesday, September 20th, 2023; 7pm CT
Location: Breese Stevens Field, Madison, Wisconsin
Follow @ForwardMSNFC on Twitter for live match updates
Forward Madison FC plays their third straight match at historic Breese Stevens Field on Wednesday, September 20th against Northern Colorado Hailstorm FC. It's another quick turnaround for the 'Mingos after their 2-0 victory against Richmond Kickers on Saturday. This is the second time these two teams have faced each other this season.
Coaches and USL League One 2023 Records:
Forward Madison FC (11-8-8)
Head Coach: Matt Glaeser
Northern Colorado Hailstorm FC (14-5-7)
Head Coach: Éamon Zayed
Key Players to Watch:
Aiden Mesias: Last week, Mesias scored his second goal of the season in Madison's 2-0 win against Richmond. With his ability to combine with players to create chances for his squad in the final third, Mesias will be crucial to Forward's midfield on Wednesday.
Ozzie Ramos: Ramos started his first match for Forward Madison last Thursday, and his defensive strength helped give the 'Mingos their 11th clean sheet of the season. Look for Ramos to bring some added support to the backline, especially against a dangerous Northern Colorado frontline.
Isidro Martinez: With an injury that has kept him sidelined for a few weeks, Martinez subbed on to close out the match against Richmond. His distribution and calmness in the middle were crucial to Forward's attacking strategy at the beginning of the season, so look for him to build his minutes as the team pushes for a postseason spot.
Key Match Up:
Battle of the Top Goal Scorers: With a red card sidelining FMFC's top goal scorer last week, Christian Chaney will likely face Northern Colorado's top goal scorer, Trevor Amann. Amann recently broke USL League One's single-season record, with 19 goals in 2023 thus far. Both strikers will look to put their names on the scoresheet on Wednesday in a crucial matchup for their respective squads.
Key to the Match:
Win the Midfield: Midfield possession and distribution helped Madison win last week at home. Look for the 'Mingos to focus on their shape in the midfield and control the tempo of the match again versus Colorado.
Start Strong, Finish Stronger: Forward Madison scored early in their win against Richmond, giving them their first win in six matches. FMFC will attempt to repeat their hot start next match without letting their foot off the gas late in the game.
Previous and Next Match:
The Flamingos come into this match after a 2-0 draw against Richmond Kickers. Next up, Forward Madison FC travels to North Carolina to play Charlotte Independence on Saturday, September 23 at 4pm CT. Watch the match in the Forward Club at the FMFC Watch Party, presented by White Claw Seltzer. More info can be found here.