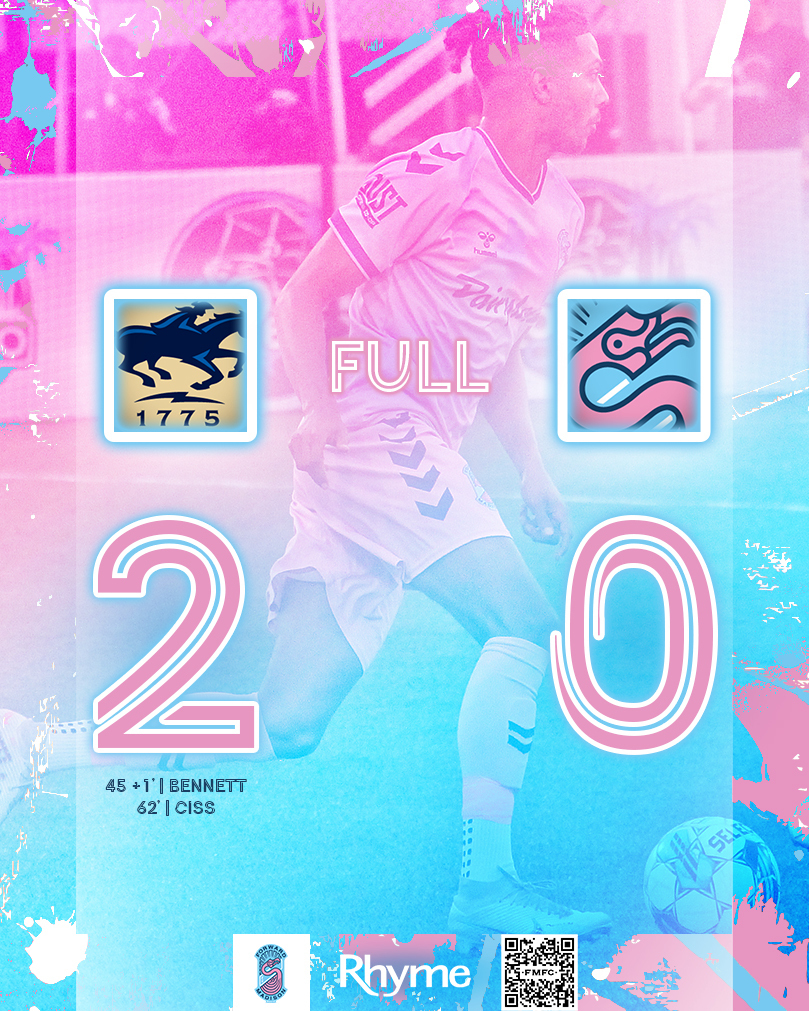 Charlotte Independence defeat the 'Mingos 2-0
Forward Madison FC traveled to North Carolina to face Charlotte Independence on Saturday, September 23rd. With four matches left in the 2023 regular season, the 'Mingos entered this match two points behind Charlotte in the USL League One standings. Fans flocked to the Forward Club for the Watch Party, presented by White Claw Seltzer, and the match kicked off just after 4pm CT.
The beginning of the first half was controlled by the Flamingos. The visiting squad possessed through the middle, moving the ball around from side to side, but struggled to find the finishing pass in the final third. In the 35th minute, Forward Madison striker Francis Jno-Baptise found an opening lane behind Charlotte's backline and was one-on-one with the keeper. However, Charlotte goalkeeper Austin Pack made a diving save to keep the scoreline at zeros. Charlotte gained momentum and started putting pressure on Forward Madison's defense. In the first minute of stoppage time, Charlotte player, Khori Bennet, blocked an FMFC clearance, which floated over goalkeeper Bernd Schipmann and put the home team up 1-0 minutes before the end of the half.
Forward Madison made a few substitutions at the start of the half, bringing new offensive energy. However, Charlotte's defense remained compact, keeping the 'Mingos scoreless. In the 62nd minute, Charlotte quickly countered an offensive-minded Forward Madison, putting numbers in the box for an easy cross-and-finish for midfielder Omar Ciss. Charlotte doubled their lead to 2-0. FMFC continued to knock on the door, looking to add to the scoreline. Midfielders Nazeem Bartman and Jayden Onen had a few dangerous opportunities on goal, but the score ended 2-0, Charlotte.   
"It was un unlucky result for us," said head coach Matt Glaeser. "They finished their chances, we didn't. We'll bounce back and hard to prepare for Lexington."
"An unfortunate result when you look at the way the game flowed and the way we conceded," said defender Jake Crull. "Now it's about staying positive. We are so close to clinching. We need to believe, stay together, and finish strong."
"We have to capitalize on our chances," said midfielder Isidro Martinez. "Next week is going to be a battle, but the team is up for it."
Next up, Forward Madison FC returns to Breese Stevens Field to play Lexington SC for the second-to-last home match of the season. The club is celebrating Latino Heritage Month and will have Mexican soccer legend, Carlos Salcido, in attendance. Tickets to the match can be purchased here.
——————————————————-
Forward Madison FC Lineup (FMFC):
#3 J. Ramos
#4 Osmond
#10 Onen
#14 Cichero
#16 Crull
#18 Baptiste
#22 Payne
#23 Mesias
#28 Wheeler-Omiunu
#44 da Silva
#55 Schipmann
Substitutes: Sanchez, O. Ramos, Martinez, Conerty, Bartman, Gebhard, Brotherton
Head Coach: Matt Glaeser
——————————————————-
Charlotte Independence (CLT):
#1 Pack
#8 Johnson
#3 Acosta
#4 Spielman
#7 Flanagan
#6 Ciss
#27 Ndiaye
#10 Ibarra
#11 Mbuyu
#56 Obertan
#90 Bennett
Substitutes: Levy, Dutey, Ngah, Dunwell, Sowinski, Alvarez, Kelly
Head Coach: Mike Jeffries
——————————————————–
Major Match Moments (corners, fouls, cards, subs, goals, big saves/close opportunities)
1st Half
1' CLT foul
5' FMFC corner
11' CLT foul
19' CLT corner
21' CLT corner
26' CLT foul
30' FMFC foul
33' CLT corner
35' FMFC major opportunity
36' CLT foul
41' CLT foul
43' CLT corner
45+1' CLT GOAL (#90)
45+3' CLT foul
Half-Time Score: FMFC 0 – 1 CLT
2nd Half
45' FMFC substitution (#17 Gebhard and #24 Bartman in, #14 Cichero and #44 da Silva out)
47' CLT foul
49' FMFC foul
57' FMFC major opportunity
62' CLT GOAL (#6)
66' FMFC foul
67' FMFC substitution (#7 Martinez and #6 O.Ramos in, #23 Mesias and #28 Wheeler-Omiunu out)
71' FMFC corner
71' CLT Yellow Card (#56)
72' FMFC foul
73' CLT foul
74' FMFC Yellow Card (#7 Martinez)
78' CLT substitution
79' FMFC substitution (#8 Conerty in, #18 Jno-Baptiste out)
80' FMFC Yellow Card (#3 J. Ramos)
84' CLT foul
84' CLT Yellow Card (#9)
85' FMFC corner
89' CLT substitution
90' FMFC foul
Full-Time Score: FMFC 0 – 2 CLT
Discipline (only cards):
Forward Madison FC
74' FMFC Yellow Card (#7 Martinez)
80' FMFC Yellow Card (#3 J. Ramos)
Charlotte Independence
71' CLT Yellow Card (#56)
84' CLT Yellow Card (#9)